Submitted by bsaadulla on Mon, 07/25/2016 - 3:49pm
Team U.S.A. Earns Gold and Silver Medals at the International Biology Olympiad
McLean, Va. – July 25, 2016 - The Center for Excellence in Education (CEE) announces four-member Team USA was awarded three Gold Medals and one Silver Medal at the 27th International Biology Olympiad (IBO) held in Hanoi, Vietnam.
Team USA 2016 Gold Medalists are:
Boyang (Peter) Dun, Canterbury School, Fort Wayne, Indiana

Bowen Jing, West Lafayette Jr./Sr. High School, West Lafayette, Indiana

Thomas Xiong, Seven Lakes High School, Katy, Texas
Team USA 2016 Silver Medalist is:
Varkey Alumootil, Canyon Crest Academy, San Diego, California
"Team USA honored the United States at the International Biology Olympiad with receipt of three Gold Medals and one Silver Medal" said Joann DiGennaro, President of CEE. "Peter, Bowen, Thomas, and Varkey garnered world recognition with their academic excellence. They are exceptional academic scholars that are headed for outstanding careers in science."
Kathy Frame, Team USA Coach and Director of the USA Biology Olympiad at CEE, accompanied Team USA to the IBO, along with Alena James, Lab Coordinator, Biology and Physical Sciences, at Marymount University.
Nearly 10,500 U.S. students from across the U.S. registered for the highly competitive USABO. Twenty finalists from 10 states were selected to compete at the USABO Finals for their scores from the open and semifinal exams at Marymount University in Arlington, Virginia. Finalists also participated in lectures, study sessions and laboratory exercises led by biology experts in fields that include cellular & molecular biology, plant anatomy & physiology, animal anatomy & physiology, genetics & evolution, ecology, ethology, and biosystematics. This marks the first year Marymount University has hosted the finals with CEE.
The mission of the USABO is to encourage excellence in biology education throughout the United States and to challenge students and their teachers to reach the gold standard in biology. Alumni of the USABO have earned MacMillan Grants, Goldwater Scholarships, Hollings Scholarships (National Oceanic and Atmospheric Administration), American Heart Association Undergraduate Fellowships, National Science Foundation Fellowships, The Paul and Daisy Soros Fellowship for New Americans, the Linen Prize in Chinese, and the Clara Levillain Prize. They have also received accolades as Marshall Scholars and Churchill Scholars.
About the Center for Excellence in Education
The Center for Excellence in Education was founded in 1983 by the late Admiral H.G. Rickover and Joann P. DiGennaro, President of the Center. The Center's mission is to nurture high school and university scholars to careers of excellence and leadership in science, technology, engineering and mathematics, and to encourage collaboration between and among leaders in the global community. CEE sponsors the Research Science Institute (RSI), the USA Biology Olympiad (USABO), and the Teacher Enrichment Program (TEP). For more information about the Center and its programs, visit CEE's Web site, www.cee.org
About Team USA at the International Biology Competitions
All Team USA Members have medaled since the United States first began competing at the IBO in 2003, garnering a total of 45 gold, 9 silver, and 2 bronze medals. Team USA achieved the coveted "Number 1 Position in the World" in 2011 and 2013.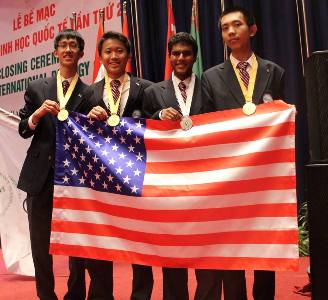 | | | |
| --- | --- | --- |
| Photo: | | Team USA at the 27th International Biology Olympiad, pictured from left: Thomas Xiong, Seven Lakes High School, Katy, Texas (Gold) Boyang Peter Dun, Canterbury School, Fort Wayne, Indiana (Gold) Varkey Alumootil, Canyon Crest Academy, San Diego, California (Silver) Bowen Jing, West Lafayette High School, West Lafayette, Indiana (Gold) |

Related websites:
Center for Excellence in Education: http://www.cee.org/
USA Biology Olympiad: http://www.cee.org/usa-biology-olympiad-usabo
Marymount University: http://www.marymount.edu/Home
International Biology Olympiad: http://www.ibo-info.org